Ricky Larsson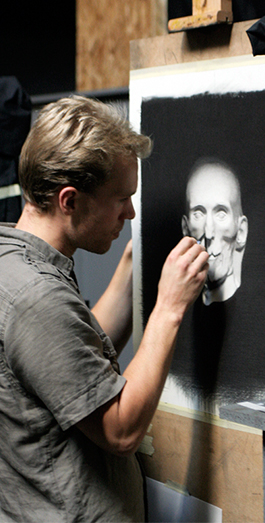 Classical realist artist born in Kristianstad Sweden 1982. He graduated the graphical design program 1999, and understood he wanted to develop the artistic side further. He began as an etching apprentice to Curt Bjernvi in Österlen and painted on his own.
After this he started his studies at The Florence Academy of Art in 2012 and graduated 2015. When Ricky was young he's father inspired him to draw and paint who also is a painter. He saw how colour and form awoken feelings and admiration. Today he runs an Atelier in Gothenburg.
" Art can put colour on a grey environment, bring people together, make us feel and think differently or just be in the moment. This is the starting point for my work."
Ricky Larsson
EDUCATION
The Florence Academy of Art Classical Painting/Drawing 2012 – 2015
Kristianstad Högskola Sound design 2004 – 2005
C4 Skolan Kristianstad Graphical designer 1998 - 2001
EXHIBITIONS
Solo exhibitions:
Lions spring salon 2015
Kvarnby Art Konstrunda 2014
Cafe Bunna 2013
Österlen Konstrunda 2012
Group exhibitions:
The Florence Academy of Art group exhibition Sweden 2015
Lions Spring salon 2014
AWARDS & PRIZES
2014: Ricky Larsson Received exceptional work award at FAA Sweden
2015: Ricky Larsson Received exceptional work award at FAA Sweden
SCHOLARSHIPS
Skånes konststipendium Ricky Larsson 2014
COURSES
C4 Arbetsmarknad Illustration 2001
HOME
|
DRAWINGS
|
PAINTINGS
|
RESUME
|
CONTACT